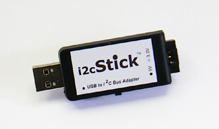 i2cStick (#MIIC-207)
i2cStick USB to I2C Host Adapter
The mini addition to our I2C Bus Host Adapter family, the i2cStick is personal, powerful, and pocket-size. Supports both Standard (100Kbps) and Fast (400Kbps) I2C Bus speeds. Controlled with a simple ASCII command interface and a Virtual Communications Port that simplifies USB connectivity, the i2cStick is designed for mobile developers, consultants, technicians, and field-service personnel.
Which i2cStick version (3.3V or 5V) is right for me?
(Discontinued - Replacement See i2cStick 2)
Explore our documents, drivers, application software, and software development tools below. And don't forget, our technical support staff is ready to answer your questions.